Meet the three newest members of the Heaven Sent Family.  (sorry for the messy hair picture!)  Top to bottom.  Midi, Cheri, Pip.   Names may change as I get to know these gals.  Pip will likely be looking for a pet home, as she is a tiny thing.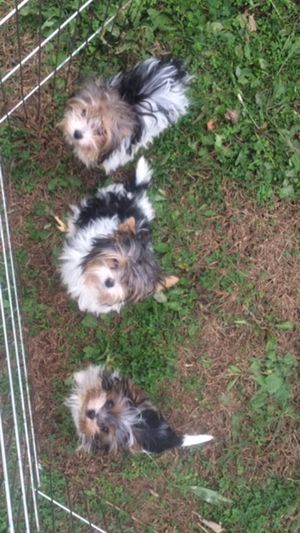 The puppies are doing well.  Bella is starting to show signs that it is time to start feedings.  She runs for the babies when she does not think they need to eat!   
Kitchen is not coming along very fast.  Maybe the plumber/electrician can get here to do a couple of outlets and water/drain lines.  It will also be nice to get the barn heater and water heater all hooked up.  We have been running the space heaters as needed so far this fall.  It will be so nice to have the large heater heating the whole barn, instead of space heaters for just a portion of the barn. 
Getting excited about heading to Eukanuba.  I will get to see some people and dogs that I haven't seen in awhile.  It is always fun to see such quality dogs and try to see if my picks match the judges picks for groups and BIS.  Plus I will have several days off school to spend with friends and dogs. 
I hope to find some time to take pictures of the babies and the new girls all dolled up.  Seems that there are too many things going on with school, dogs, construction, and other day to day things to get done.  Miss the time that summer gives me!
I can't remember if I announced that I am going to be a grandma in April.  They found out it is a boy!