NuVet Plus

The most powerful, all natural supplement available.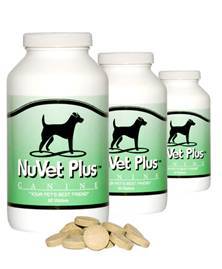 Uses human grade, natural ingredients

Manufactured in a human grade FDA lab.

Contains no fillers, no sugars, no artificial flavors, and no binding agents

Is completely safe and nutrient rich

Is never heat processed.  Heat destroys essential nutrients.

Scientifically formulated to provide everything your pet needs for perfect health.

Eight years of research were put into NuVet Plus.

Combats disease where it starts- from the inside

Powerful antioxidants to defen against free radicals.

Strengthens your pet's immune system

Safe for animals of all ages, including pregnant females.

Guaranteed- 60 days, 100% satisfaction guarantee.
Significantly reduce the risk or eliminate many problems that may strike your pet:


* Allergies

* Skin and Coat Problems

* Scratching, Itching, Biting

* Hot Spots

* Arthritis and Joint Problems

* Premature Aging

* Low Energy Levels

* Diabetes and Liver Problems

* Cataracts and Tumors

* Digestive Problems

* Tearing

* Heart Disease



To order 30 and 60 wafer bottles you must call in.  Larger sized bottles available on website.


NOTE: This product is Not available to the general public without an Order Code supplied by your Pet Professional
Not available in stores – CALL TO ORDER



30 day supply is only $12.50-$25 for a Biewer Terrier.

(1/2 wafer for under 5 pounds, full wafer for over 5 pounds)  This is the cost shipped of a 30 wafer bottle.  Costs less per serving for larger bottle sizes. 

*****Save 15% if you sign up for Autoship*****

I initially tried this product on a pregnant female.  Before whelping I noticed an improved hair coat coming in.  This is a time when many females lose hair because of prenancy.  All of the dogs loved the smell of NuVet Plus.  I gave it to many of the gang to see how it would be accepted and everyone has taken it readily as a treat.  I can't wait to start this new litter out on it when they start eating!  Wondering what differences I will notice from previous litters.  I am also hoping that this supplement will allow my dogs to live a LONG disease free healthy life since NuVet Plus attacks the free radicals that effect the health of us all. 

I am putting the whole gang on it!